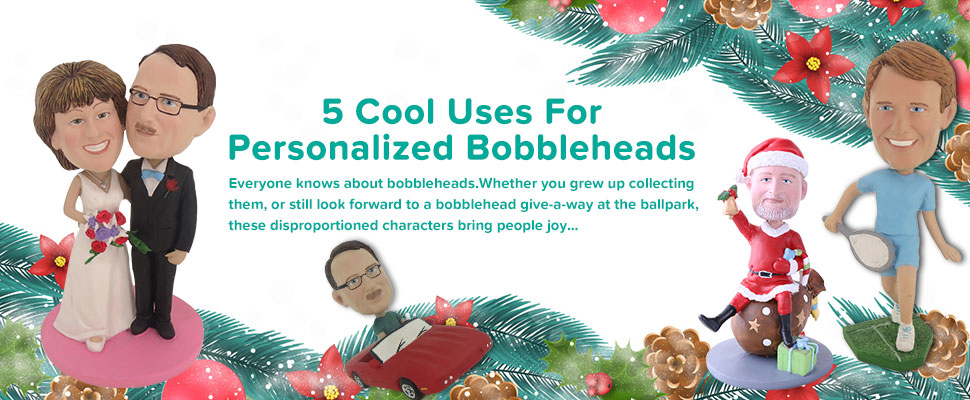 Everyone knows about bobbleheads. Whether you grew up collecting them, or still look forward to a bobblehead give-a-way at the ballpark, these disproportioned characters bring people joy. There's something supremely entertaining about watching miniature figurines bobble their heads back and forth. It shouldn't come as any surprise then, that custom bobbleheads are hot products in certain markets. If you've ever seen Dwight Schrute's bobblehead in The Office, you'll know exactly what we're talking about. Personalized bobbleheads can do so much more than just sit on your shelf. If you've ever had an interest in making your own bobblehead, we're here to tell you why you should go for it!
Personalized Bobbleheads Idea #1: Weddings
Wedding gifts are fairly generic. People make a registry and you pick from standard items that every bride and groom request. Personalized bobbleheads are an excellent opportunity to buck this trend. Consider ordering bobbleheads of the bride and groom as an outside the box wedding gift. Likewise, if it's your own wedding, bobbleheads are an excellent way to remember your special day with something unique. Instead of the traditional bride and groom figurines on top of your wedding cake, think about using custom bobbleheads instead. Bobbling figures on top of your cake are sure to give your special day a little bit more charm.
Personalized Bobbleheads Idea #2: Sports Teams
People know about sports-centric bobbleheads. Every professional sports team sells figurines of their biggest stars. So why not take the idea and apply it to your own recreation sports teams? Giving out personalized bobbleheads is an excellent way to say thanks for a great season. You could also use them as trophies at the end of the season. Your MVP? They deserve a bobblehead made in their image.
Personalized Bobbleheads Idea #3: Sales Initiatives
Businesses often give out rewards for employee of the month, the most sales, etc. But it's always a boring plaque on the wall, or a "thank you" gift card. Your office deserves better than that, and personalized bobbleheads are the way to spice things up. It might surprise you just how excited people get at the prospect of thoughtful prizes. Offer up bobbleheads made in your top sales person's image, and watch your employees get that much more interested in that top sales spot.
Personalized Bobbleheads Idea #4: Retirement Presents
Retirements are often bittersweet affairs. Someone moves on and enjoys a relaxed life, but that doesn't mean they aren't missed around the office. Think about creating a personalized bobblehead of the retiree as a going away present. Or, take it step farther and make the bobblehead a gag gift. Order a bobblehead of the boss and give it as their present. That way, your favorite retiree will always have the boss looking over their shoulder.
Personalized Bobbleheads Idea #5: Secret Santa
People stress about giving gifts. Everyone knows the feeling of shopping for someone who "doesn't want" anything. The next time you're shopping for a difficult secret Santa partner think about gifting a custom bobblehead. You can gift them a bobblehead of themselves, or you can take the humorous route and gift them something strange. Does your secret Santa counterpart have a celebrity crush? You can ensure their crush is always watching. Personalized bobbleheads have more applications than most people would think. Bobbleheads are far more than cute shelf decorations. If you're looking for your own personalized bobblehead supplier, get in contact with us. We'll make sure your next wedding, gift, incentive, etc. is something people remember.