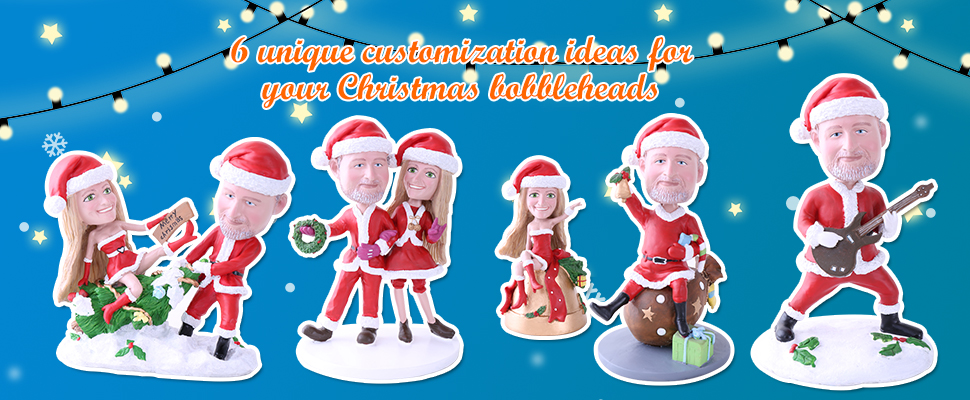 With Christmas just a couple of months away, you must have started preparing for the festivity. Cleaning the house, looking for the perfect Christmas tree, learning a new recipe for cookies, and many more are a crucial part of Christmas preparation. However, we tend to forget the most important aspect of this festival. What are they, you ask? Gifts, of course! While you are pondering on what to get as a gift for your loved ones on Christmas, let us be your Santa and help you out.
When it comes to Christmas gifts, you can never go wrong with a perfectly crafted bobblehead. Yes, you heard that, right! Planning your very own customized Christmas bobbleheads is just what you need to make your festive experience all the more special.
Here are a few customization ideas to help you compile the best Christmas bobbleheads.
1-The Christmas Couple:
If you happened to miss out on your wedding anniversary or need to impress your partner, what better way than to have their bobblehead dressed as Santa with you by their side? You can either go for Christmas bobbleheads that have your partner dressed as Santa, while you are dressed in your wedding dress or a beautiful gown. You can also go for another version where you both are dressed as Mr and Mrs Santa for Christmas Eve. Remember, nothing says "Merry Christmas" better than a couple dressed as Santa Claus, even if it's your mini-version, it still counts though!
2-The Gift Bringer:
Have you ever asked yourself, what actually does Santa Claus do? Well, we all know that he enters our homes on Christmas Eve through the chimney and leaves a lot of gifts for everyone in the house. So, what better way to celebrate Christmas than order a bobblehead that signifies the essence of Christmas and Santa Claus? If your partner is the gift-bringer in the family, let him/her know that you cherish them by ordering a customized Christmas bobblehead. You can order the bobblehead with your partner in a Santa dress sitting on a big bag of gifts. This is essentially what your partner is to you right? The adorable gift-bringer! Show them that you appreciate their efforts with this perfect Christmas gift.
3-The Guitar Santa:
Now, this is a bit different, but couldn't you imagine yourself in a Santa costume holding a guitar? Or better yet, get one guitar bobblehead made for your friend or loved one. They will surely love it, especially if they are music lovers or guitar enthusiasts. Remember, if you want any other accessory added to the look, you can opt for a fully-customized Christmas bobblehead as well.
4-The Snowman:
Christmas is all about the beauty of the white snow! You will never see a child getting bored with making a snowman during the holidays. If you have a child at your home, you can surely get him/her a beautiful bobblehead representing them just beside a snowman. What better way to say that you admire their creativity than present them with a replica of something they love doing the most? Have your bobblehead designed beside a beautiful snowman with a cute little muffler wrapped all around his neck while your little one is standing right next to his/her creativity in a classic Christmas-Red Santa suit.
5-Ain't No Way Like the Shoe Way:
Another cute couple way to make your Christmas gift more unique is to style it with the help of a shoe. Yes, you heard that, right! Those good-old Santa shoes with your partner inside and you outside trying to enjoy the moment will surely be a cute-little unexpected gift for your honey! Both of you dressed in red with playing atop the over-sized shoe will surely be a great part of your Christmas gift collection.
6-The Sexy Santa:
If you desire something different to be gifted to your partner or even your best friend, you can go with a bit of sexiness added to your Christmas bobbleheads. Get your face customized on the pre-made body model with you sitting atop a big glass of pina colada with a slice of lemon by the side. Be sure to keep up the Christmas spirit with that classic red added to your bikini with a furry overcoat and the Santa hat.
Bottom Line
If you have decided on the type of Christmas bobbleheads you plan on ordering, keep in mind certain things that will help you obtain the perfect bobblehead. For example, you can select from a pre-made body or opt for complete customization. Another thing you need to remember is the fact that the photograph submitted for customization should be crystal clear while showing your face correctly. Keep all these critical know-how in mind, and you are good to go!
Call to Action
Wondering where you can buy the perfect Christmas bobbleheads? At Yes Bobbleheads, we offer high-quality bobblehead dolls at affordable price tags with an option for partial or complete customizations. With an easy-to-order process, all you need to do is upload your picture, choose your customization requirements, pay, and voila!! You are done! For any other queries, you can give us a call at 866-213-0618 or write to us at service@yesbobbleheads.com.