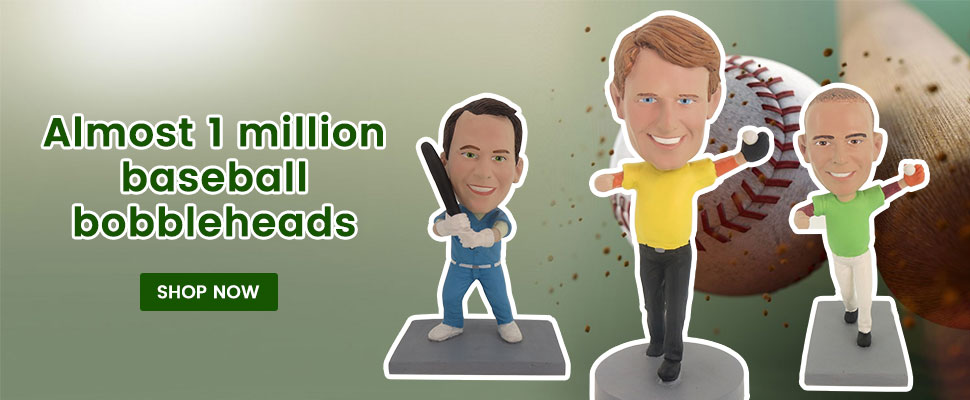 In terms of most popular bobbleheads, base bobbleheads are sure to be one of the most popular in the sports field. An interesting recent article on major league baseball's continued love affair with the bobblehead. Last season just MLB teams along gave away 0.99 million bobbleheads…that's insane! By my calculations, those bobbleheads, stacked in a line would reach from Waxahatchie, Texas to Natchitoches, Louisiana. Go ahead, check with my math, I dare you.
If you want to have your own custom bobblehead giveaway, don't worry you don't need to order 0.99 million or even 10,000. You can do 1, 2 or whatever number of custom bobbleheads you want. You can create one customized baseball bobblehead for your friends, kids or other family members. Furthermore, you can create small amount of duplicate baseball bobbleheads if it's for an important man, or a special event etc. Many of our clients memorialize their favorite baseball coach with a run of 10 or 15, for example. And also remember, you can always get great discounts when you do duplicates so to have the overall cost go down sharply.
Also, don't forget to checkout our other sports custom bobbleheads option if you're in favor of other sports types such as basketball, soccer, football, hockey etc. Sports are loved by our people, so does the sports bobbleheads. At Yes Bobbleheads, we are always here to help for any of your bobblehead needs. Check out our Facebook to stay informed of our latest news and promotions...