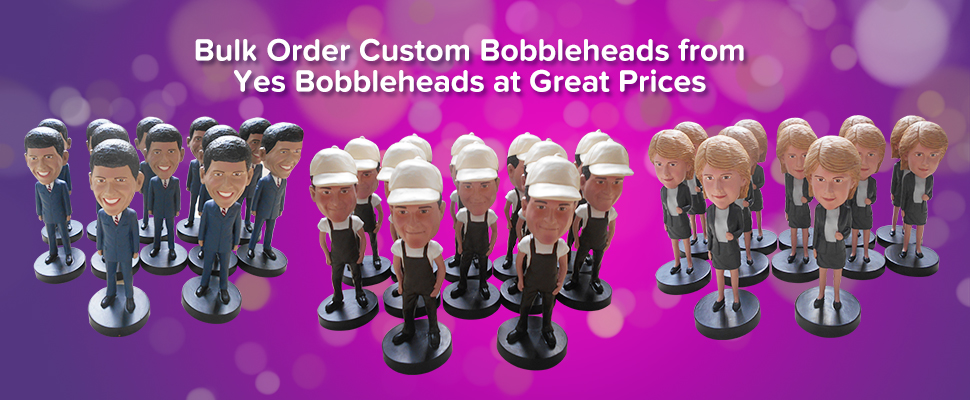 Would you customize and order a bobblehead in bulk quantities for teams, companies, parties, etc. Yes Bobbleheads can help you carry through large quantity orders at great discounted prices.It has been creating custom bobbleheads with premium quality for more than 10 years and has created tens of thousands of custom bobbleheads for individual customers as well as large companies and organizations through the years.
Yes Bobbleheads store has lots of practical examples, such as Groomsmen Custom Bobblehead Collection, 15,000 Wacky Wobblers(Official Mascot of 2018 European Handball Championship), 100 custom bobbleheads for Doug Kammerer #DougstheGuy(Storm Team4 Chief Meteorologist) , High Level Doctor Meeting Gifts, Baseball Team Vivid Bobble Head Dolls, etc.
Why to buy bobbleheads in bulk?
In many cases, bobblehead is a good gift and worth keeping to old. It's personalized and unique. Bobbleheads are widely available in weddings, corporate events, sports, business and gatherings of any kind.
What's the price?
We offer the best wholesale price. If you order in bulk, including 3 parts of fee: sculpture and mold setup fee is $180, then just cost of each bobblehead, and shipping costs from our factory in China to your place.
How to order?
You can simply submit the order online without making payment and we'll send you an invoice with the correct total amount afterwards. Or you can download this bulk order form, fill out the details and then email back to: sales@yesbobbleheads.com. We will give feedback as soon as possible base on your photos.
When to get my order?
20-30 days for order quantity less than 50, 5-8 weeks for order quantity more than 50. Once customs clearance, we will send your order to our local distribution center. Our shipping team can offer you a quotation and will handle the shipping coordination between all shipping companies and active personnel. In addition, we can transport by air, which can avoid longer transportation time, but the transportation cost will be higher.
Click here to get more infomation.