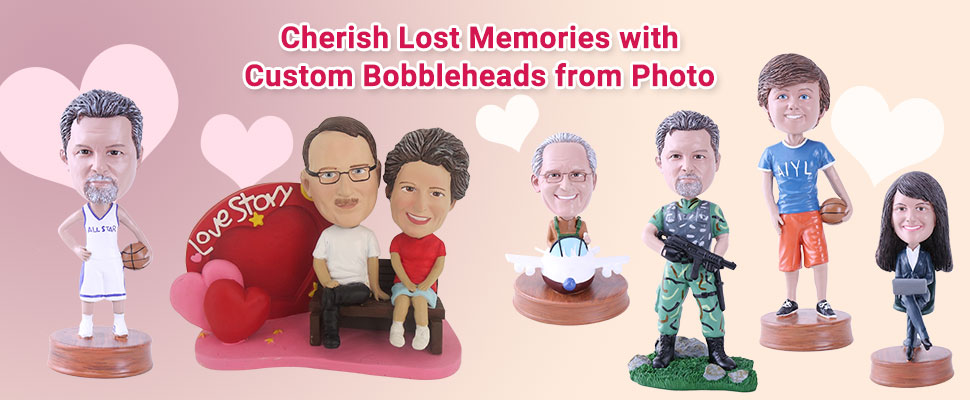 Remember those good old days when you had nothing standing as a burden on your shoulders? You were all carefree, and every day was sunshine and rainbow. Life is a funny thing. You make memories as you learn to live. While some lock these memories in the endless pit of their mind, others click a picture or two. While it could be time taking to find those old photo albums from your attic to relish those memories, you can always relive them via custom bobbleheads from photos.
Whether you were a marine who had a good fight protecting the country or a young guitarist who stopped playing long back, you can always enjoy those good old moments by having a look at these well-crafted bobbleheads that are designed to replicate your pictures in the perfect way. Some things are better than simple photographs, and one such thing is a custom bobblehead.
How can you relish your lost memories?
1-Your Kindergarten Friend:
Missing your old pal from those kindergarten days? Do you have a picture where the two of you are hugging each other or maybe standing shoulder to shoulder, looking at the camera with a big smile? Well, if you do have a clear picture of your long-lost friend, you can plan custom bobbleheads from photos to cherish your friendship that was meant to last but couldn't as life happened. And while you are at it, try and locate your friend if possible. A beautifully customized bobblehead could be just the thing for you and your buddy to help re-kindle that lost friendship.
2-The Best Man:
Now, who doesn't love a good old wedding? Your friend is about to get married, and you are the best man. Decked up in a crisp black suit, you are the ring bearer. All responsibilities are yours to handle. You are in charge. But, all you have with you from that amazing day are some pictures and nothing else to remember it by. Well, what can you do in this case? If you do have an amazing picture of your from that memorable day, especially if you have one with the groom, you can always order for custom bobbleheads from photo. This can be a marvelous addition to your office desk or home desk, where you can always look at it whenever you feel nostalgic. Or better yet, you can gift it to your best friend A.K.A., the groom.
3-The Graduation Ceremony:
The day you graduate from college is probably the best day of your life. This is the moment you get to decide how your future unfolds, and surely it is a determining memory. Just like any other happy kid, you would surely have numerous photos from the day when you got to wear that graduation hat. So, why not bring that memory to life with the help of custom bobbleheads from photo. You can order your bobblehead to look exactly the way you did on your graduation ceremony with that black cape and that hat. You can keep this bobblehead on your study desk as a reminder that at the end of the day, all goes well. Remember to order your bobblehead with a clear picture that shows your face in the proper light to get the best output.
4-The Wedding Dilemma:
Who doesn't have cold feet on their wedding day? A few hours before the wedding is about to happen, you might feel anxiety and butterflies in your stomach at the same time. You are both worried and happy about the future that you are going to have with your beloved. But at the end of the day, you look into each other's eyes, and everything is just magical. While pictures are surely the best ways to preserve these precious memories, you can always take things further with custom bobbleheads from photo. A wedding scenario is always packed with pictures. So, without a doubt, you will surely have an amazing click that clearly represents you and your partner as a couple. If you have your wedding anniversary coming up soon, nothing could mean a better gift than a customized bobblehead.
5-Your Complete Family:
Now, this is something most families do, and we are sure yours is no exception. Every year you would surely get a professional photo clicked of the entire family as memorabilia to cherish. These pictures provide you a way to notice how time flies by, and people change. If you had an amazing time clicking these pictures this year or maybe 2 years back, you could always turn them into fun bobbleheads that are way lively than any picture. Having your entire family in the shape of a bobblehead right in front of you can be something very amazing. Best yet, it can be a great gift for mother's day or father's day. So, order your custom bobbleheads from photo today.
6-Your First Sports Victory:
Ah! The classical old adrenalin rush of a victory in your favorite sports! If you have ever been a sports person or someone who loves to test his skill, you would have surely bagged medals and trophies that stand on your showcase today. However, you can make these memories all the more prominent by opting to create custom bobbleheads from photo where you are wearing your medal or carrying that trophy. So, order away today!
Conclusion
Whatever be your memory, you can always reminisce those good old days with the help of a custom bobblehead that can either be placed on your desks or carried around in the pocket. Always remember to have a good picture before you order your bobblehead. This will help you get the highest-quality output without having your bobblehead look like "Jabba the Hut."
Call to Action
Are you in need of the best custom bobbleheads from photo? Visit Yes Bobbleheads for a fantastic collection of bobbleheads that could serve as great memorabilia. We provide you access to pre-made bodies or full-custom bodies that can be designed as per your need and budget. So, why wait? Get access to high-quality creative make for custom bobbleheads. Visit us today and get exclusive discounts!