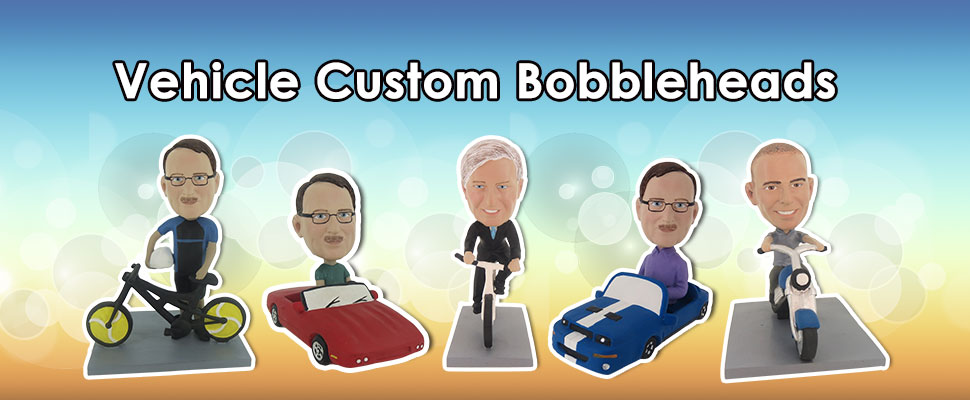 Everyone knows how hard it can be to find the perfect gift, especially for adults that tend to buy whatever they want or need for themselves. This is why custom-made gifts can be such a great option when it comes to finding something for the person that has everything.
If the vehicle enthusiasts in your life already have plenty of keychains, calendars, model cars, and other common items related to their hobby, you might be at a loss as to what to get them. There's good news - you could opt for a custom bobblehead.
What makes these fun items custom, and what options are available to you where vehicles are concerned? Here are a few things you need to know about choosing the perfect custom bobblehead for the vehicle enthusiasts in your life.
Vehicle of Preference
There are all kinds of different vehicles that people can become enamored with. Some people have a lifetime love affair with cars, from coupes and convertibles to family sedans and golf carts. Others prefer motorcycles, including dirt bikes, sport bikes, and road hogs.
Then there are those who would rather skip motorized vehicles in favor of cycling. If you're going to commission custom bobbleheads for the vehicle enthusiasts in your life, you'll want to start by choosing the vehicles that most closely resemble the ones they prefer. From there you can choose colors and decide whether or not bobblehead dolls will be in/on vehicles or standing next to them.
Bobblehead Customization
Once you've selected the vehicle that best suits your gift recipient, the real fun of customization begins. You'll start by selecting a body shape or choosing to create a custom body for your bobblehead. You can choose motorcycle custom bobbleheads for motorcycle enthusiasts, bicycle custom bobbleheads for bike lovers, and car custom bobbleheads for who prefers a car doll.
From there you'll create a description of how you want your bobblehead to look and submit photos of the gift recipient so that the bobblehead can be made to look just like the family member, friend, or colleague you're giving this one-of-a-kind gift to. Customization applies not only to the head of your bobblehead figurine, but also the clothing, so if the recipient has a favorite tee, hoodie, or ball cap, the bobblehead can reflect that.
Next, you'll receive proofs to approve or amend, and with unlimited rounds of changes, you should be able to tweak your custom bobblehead to ensure it is perfect. The process usually takes about 4-6 weeks from the time you order until your bobblehead is delivered, but with rush options for manufacturing and shipping, you could have it in as little as a week.
Occasions
One other thing you might want to consider when making a custom bobblehead is the occasion the gift is for. While bobbleheads make a wonderful, personalized gift for birthdays, graduation, professional achievements, or other personal milestones, they can also be used as wedding gifts (or wedding cake toppers), for the birth of a child, or for any seasonal holidays.
Remember that these are customizable bobbleheads, so if you want to do a mashup, pairing a holiday theme or wedding topper with the recipient's favorite hobby, there's no reason not to put a groom next to a car or the happy couple on a bicycle built for two.