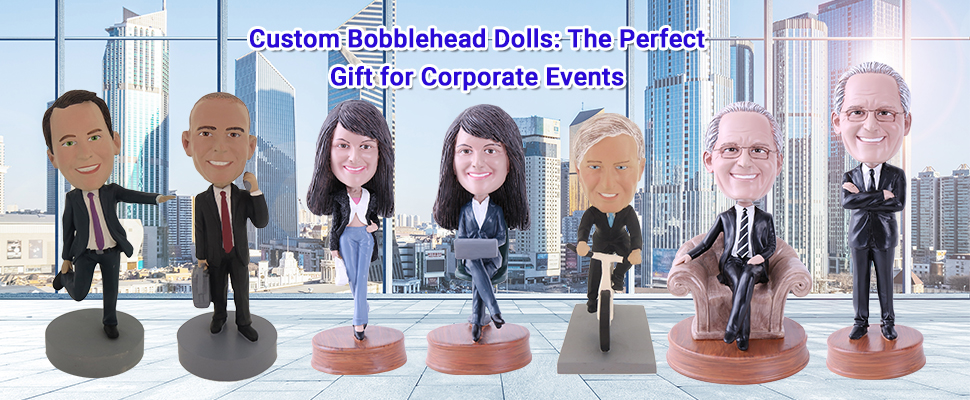 With so many things to take care of, planning the perfect gifts for corporate events can get challenging. There are multiple factors that you need to keep in mind when finalizing a corporate event gift for the guests. Depending on the members participating in the same, the features in the gift can vary. When it comes to corporate gifting, you can never go wrong with custom bobblehead dolls.
But, before you start ordering your custom bobblehead dolls, you need to take care of certain things.
Prepare a guest list

Segregate the list with regards to the role they play in your organization

Get a good-looking, well-lit photograph of all the guests and honorary members
Now that you are done with the starting phase let us take a look at some of the unique custom bobblehead dolls you can order for the event. This is especially true if you are in charge of the event and need to handle multiple things within a short time frame.
Types of Bobbleheads for Corporate Events
1-The Work-Mom:
If you have a guest or team member from your company that is both a mother and a hard-working woman, this gift should be perfect for her. Make them feel special with this gift. Custom bobblehead dolls paired with the look of an office-going mom will help your guests or colleagues realize how special they are. Make sure you get the best face of the colleague or guest you want to gift it to by looking through the social media profiles or asking a mutual friend for a snap. Make sure the plan isn't out about the custom bobbleheads to ensure a sense of surprise.
Take care of all the details to be included in the bobblehead. You can opt for a fully customized bobblehead or go with pre-made bodies depending on your budget. If you plan to go with full-body customization, you can get the dolls created in the image of the one to which the bobblehead is being gifted to.
2-The Boss:
Another option for fun custom bobblehead dolls is the one for a boss. Now, you need to make sure that you understand your boss's personality. Whether he/she is a dashing debonair or someone who loves simple lifestyle, you can prepare the corporate event gift that suits his/her personality. One option you can go for is your boss sitting on his beloved sofa with that crisp black suit and a shaded tie. You can also go with a fun boss look where your supervisor is standing with one hand in the air and another holding his opposite foot up in the air. This is something similar to the one-leg balance challenge.
Make sure you keep the humor subtle to ensure that no one is offended by the same. At corporate events, you need to keep in mind that everything should be as professional as possible.
3-The Cigar Enthusiast:
A beautifully packed cigar has always been considered a symbol of status, dominance, and authority in the corporate world. If you have a colleague, senior, or guest in the event who loves smoking cigar, you can plan a corporate gift for them in accordance with their look with a cigar in their hand. You can either go for a fully customized body to get the cigar customized down to the brand, or opt for a pre-made frame. Either way, you will surely impress the ones receiving the gift when they see a replica of themselves.
4-The Stylish Advertiser:
Every brand needs its superheroes who market and advertise the brand for exposure in expanded scale. Advertisers are all about that bling and glamor that help attract potential customers for better sales. So, if you have a team member who is super stylish both in looks and approach, consider gifting him/her custom bobblehead dolls that represent their exact self. Remember, you can take this bobblehead a step better by opting for full-customized body as opposed to the pre-made bodies.
Get the bobblehead prepared with a great t-shirt topped with a fantastic jacket and a flirty skirt. Oh! And don't forget the shoes though. A great shoe always amps up the look of your bobblehead. So, get ready to be thanked and appreciated for planning such wonderful gifts for corporate events.
5-The One With Company Initials:
If you are planning for bulk custom bobblehead dolls for your corporate event, you can always go for classic bobblehead dolls standing beside the company symbol or initials. Have the bobblehead makers use the standard body with heads changed for each colleague or guest. You can customize the initials or symbols as per your brand requirements and have the dolls with one hand placed on the brand initials and another in the pocket.
Conclusion
So, make your corporate event a huge success by bulk ordering custom bobblehead dolls. With such unique gifts presented to your guests and team members, you can definitely expect big smiles as the event closes off. You will definitely get the tag of the best host and organizer with custom bobblehead dolls as gift options.
Call to Action
Wondering what to gift your colleagues for a corporate event? Well, fret no more! Order your custom bobblehead dolls from Yes Bobbleheads today with a wide range of pre-made bodies to choose from. You can opt for a full-customized body or standard body for your gifting needs. Best of all, our high-quality bobbleheads are designed to last for years to come at an affordable price tag. So, order today and enjoy playing with your "Mini-Me."