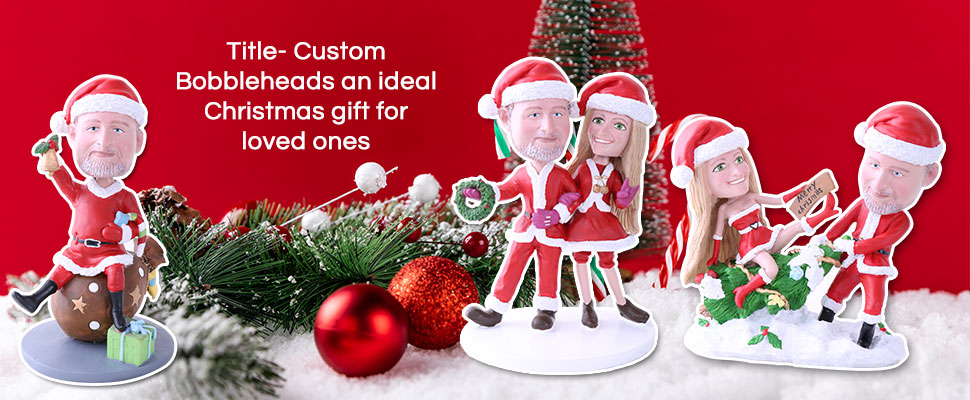 With Christmas soon to arrive, people start hunting for remarkable gifts for friends or families to cherish the memories of the year. However, it may happen that one might forget or simply didn't have time to hunt down for the ideal gift jumping from one store to another. For such worrisome times, an exclusive custom bobbleheads could be exactly what one needs to surprise their loved ones.
If you are wondering which form of custom bobbleheads you can gift to your friends, family, or better half, described below are some of the best customization options.
Types of Custom Bobbleheads
1-Collector's Item:
If you have a friend or family member who loves to collect things that are related to a specific field such as sports, you can gift them custom bobbleheads with the imprint of their star player. This particular customization will surely be appreciated. Bobbleheads are mostly used for car dashboards. However, it can also be placed over the table or any other place. If your friend has plans to place it over the car dashboard, make sure you ask the bobblehead makers to create specialized gifts that can easily stick on the car without falling.
2-Bobblehead Night lamps:
For a more personalized touch, you can opt for a bobblehead night lamp as gift option. You can order these custom bobbleheads night lamp online. Further, you can ask the service provider to create it in a size that fits perfectly to your bedside table. Wondering how this works? The bobblehead night lamp's base is fitted with small and finely lit LED panels. Additionally, you can replace these panels with neon lamps.
3-Santa Claus Bobbleheads:
What is Christmas without Santa Claus? This variant of custom bobbleheads could be the best gift for your kids or any young ones in your family who cherish the essence of Christmas. The best thing about having access to an online customized bobblehead is the fact that you don't have to move an inch and within days the gift is at your doorstep. You can customize the bobblehead to look like your kid and bring a smile to their face. While you are going at it, do not forget to include Mrs. Santa to the scenario and create a whole happy family.
4-Couple Bobbleheads:
If you are visiting your friend who recently got married, couple custom bobbleheads could be an ideal Christmas gift. Let your friends know that you cherish the essence of their friendship and their newly developed relationship by ordering a bobblehead that looks exactly like them.
5-Cake Toppers:
Custom bobbleheads are perfect to be used as the cake toppers during Christmas. The most favourite toppers opted by customers during Christmas include Rudolph, Grinch, Mrs. Claus, Christmas Elves, and many more. Instead of having a plain boring cake that doesn't incite the interest of your guests, one can opt for cake custom bobbleheads that add a hint of charm to the overall festive feel. So, if you are someone who loves to be the gossip of the party, make sure your pre-order these bobbleheads online.
6-Business Emblems:
Business Emblem custom bobbleheads are mostly popular among the organizations that love to create a special Christmas party for their employees. It can either be used as a gift for the employees or used to get more clients by gifting them these creative pieces that will surely create a good first impression.
How can you order custom bobbleheads?
With the internet being an emerging platform for e-commerce websites, a simple Google search will land you with 100s of results online for ordering bobbleheads. However, trusting the best service provider can be a tricky move. Creating an authentic and realistic looking custom bobblehead requires intense skill developed over the years. Custom Bobbleheads can be a bit pricey and it important that one should be thorough about their requirements before finalizing the plans for their gifting option. Starting from size to color and price to delivery time, everything should be transparent to ensure that Christmas is filled with joy and merrymaking.