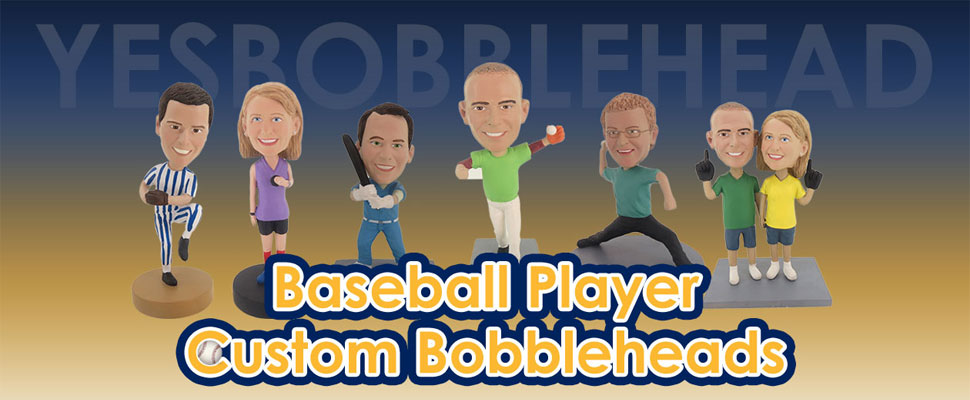 Are you a baseball fan? Do you want a customized bobblehead of your favorite player/team? Don't wait any longer. Click to browse through the extensive collection of custom baseball player bobbleheads available at YesBobbleheads.com!
It's been a long time since these small statues of sports stars with oversized heads that bobble captured our heart. In 1999, the first major league baseball team to offer a bobblehead giveaway was the San Francisco Giants, which distributed 35,000 Willie Mays head nodders at a game.
Since then, athletes realize that it is an honor to have their face on a bobblehead, and bobblehead giveaways became a common sight for baseball fans at sporting events as a promotion.
But you know what? You don't need a game and some luck to get a bobblehead anymore. YesBobbleheads can let you customize bobbleheads mimicking your favorite baseball player!
If you're a baseball junkie and want to "see" your idol every day, this is a good way to achieve it. Our customized bobbleheads are a perfect gift for your baseball star. It's also a unique and memorable little souvenir that you can keep for yourself or give to your best buddies.
Want to be your own fan? Yes! You may not be able to join the stars on the playing field, however, you definitely can join their bobblehead rank by personalizing a baseball bobblehead characterizing of your appearance.

YesBobbleheads has unveiled a collection of baseball-themed bobblehead dolls in eight different poses, such as a baseball player in pitching motion, swinging a bat and catching a ball. You could even get a 2-on-1-stand bobblehead of you and your spouse. Female model is also available if you're a girl. You can also add accessories such as team hat or logo if you like – indulge in the fun of customization!
YesBobbleheads sculpts the dolls to look like the photo you provide to us with great detail. We offer proofs during the creation to ensure great satisfaction. Just take a look at the proofs we send to you and modify as much as you want, like making the nose bigger or eyes smaller. Once it is approved, we'll start baking your doll and ship it directly to you.
YesBobbleheads is a leading bobblehead maker employing artists with 10+ years of experience in the industry. Check us out here.
Baseball season is not only about beer, turkey legs or those famous stars you can't reach. Customize a baseball bobblehead doll and score it!