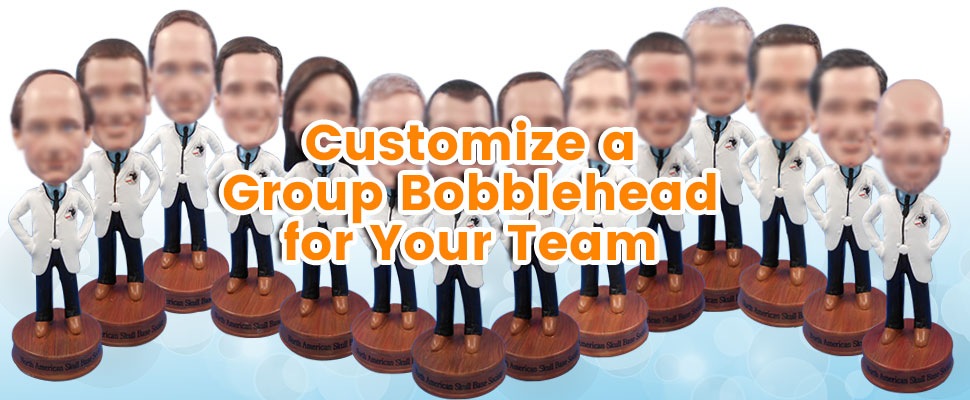 Recently, a friend approached us for advice on something to give to his team as a souvenir. The first thing that came into the mind was a group bobblehead. Here is why.
What is it and why is it in vogue?
Forget about images. Bobbleheads are the future.
Bobbleheads are figurines with still bodies and rocking heads. As a souvenir, bobleheads make for a second-to-none reminder of all that precious moments you and your team work/study/play together.
It lasts forever, and can always stand on your desk, mantelpiece or anywhere you want. At any time in your life, whether you and your friends are still together or not, it acts as a fantastic record of your friendship when you take it out and hold it in your palms.
The friend mentioned above, is a co-founder of a startup company. After three years working shoulder by shoulder, one of his partners is leaving. He picked a photo they took when hanging out at the bar after a long day's work, and asked us to sculpt a bobblehead of the guys drinking beer. He told us it's one of the best gifts he and his team had received.
Uses of customized group bobbleheads
There are so many situations where a group bobblehead figurine makes perfect sense as a gift.
1. As a corporate/organization gift to encourage team-building and improve employee solidarity.
2. As a souvenir for group activities such as conventions, business tours, ceremonies, etc., to represent the whole group and help freeze the moments.
3. For a team to celebrate winning a championship, or any other awards.
4. An interesting desk ornament for your office, venue or home.
5. A perfect gift for birthdays, Christmas and so on.

Tell me how to create one!
At YesBobbleheads, making a bobblehead doll is a breeze.
First, choose the bobblehead body from hundreds of stock designs we provide on our website. Second, upload a photo you want the bobblehead to be based on, and add as many descriptions as you want. We will immediately attend to your order and send proofs to you. You can make unlimited rounds of revisions before approving it. After that, you are done! Just wait for it to arrive at your doorway!
At YesBobbleheads.com, all bobbleheads are handmade by the finestmakers in the world. Every single member will be sculpted individually in likeness of the person in the photo. Advanced 3D technology guarantees maximum resemblance.
Oh, a kind reminder that we are offering a 35% discount sidewide for a limited time! Rush now or regret later!
So, why not inspire your team with our cool and funny bobblehead set? It will become a valuable witness of your partnership. Remember, people come and by in your life, but friendship never fades!