Did you dream of being the next Beatles when you were little? Are you simply enjoying the sound of the guitar? Or do you just want to rock?
If the answer is yes, customize a guitar player bobblehead may be the smartest decision to mark your days playing the guitar!
A bobblehead is a type of collectible toy with a head that wobbles. When you customize a bobblehead at YesBobbleheads.com, you select from a wide collection of guitar players in 15 different poses, outfits and styles, and create a one-of-a-kind figurine with the photo you provide to us.

The guitar player bobblehead would be a good souvenir for anyone who's a guitar enthusiast. Imagine a doll featuring yourself with your favorite electric guitar and sing like a rock star!
It would also be a distinctive gift for your buddy who loves playing the instrument. If you make it as a birthday or holiday gift for the bass guitarist in your music bang or the guitarist in your family, it might be the most special personalized gift in his whole life!
If you know a rockin' lady, putting her face on this custom female guitarist bobblehead would be a sweet surprise (BTW a kind reminder that Valentine's Day is approaching!).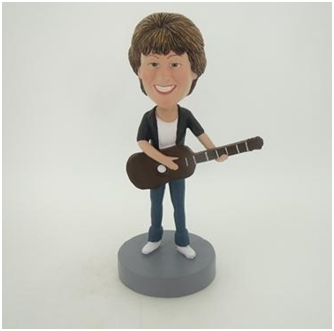 To meet your idol at a concert pretty soon? There's nothing better than making a bobblehead figurine resembling him/her.
YesBobbleheads has made it real simple for you. After uploading the photo you'd like us to sculpt, you can add as many descriptions as you like, such as hair color, base color, etc. YesBobbleheads collects all the requirements and return a proof to you. Modify it as much as you want until you're absolutely satisfied, and we'll start baking your doll.
YesBobbleheads is a leading bobbleheads maker. We employ sculptors and designers with over 10 years of experience. Details like the strings on the guitar and jeans the person wears are finely crafted for the most vivid look.
Customize a guitar player bobblehead at YesBobbleheads.com and move like Jimi Hendrix, Chuck Berry and Jimmy Page!