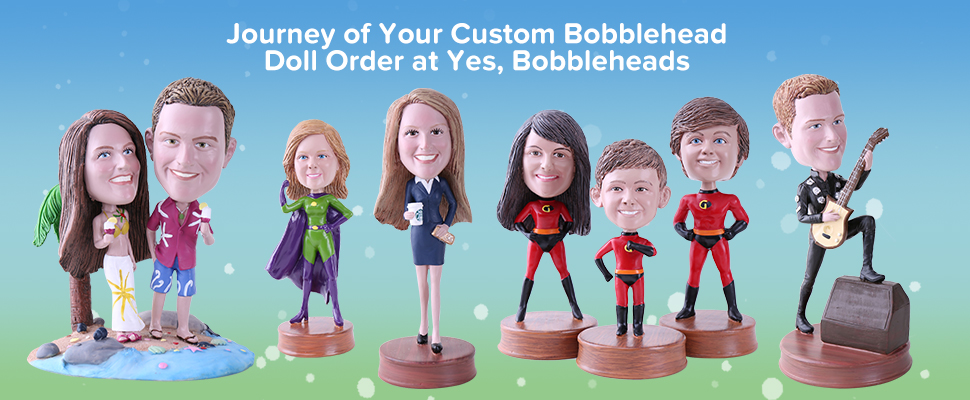 The choice of custom bobblehead dolls as special gifts is increasing every passing day. Today, there are so many custom bobblehead vendors operate with eCommerce stores that it's getting hard for online shoppers to choose the right store for their custom bobblehead dolls purchase, especially for first-time purchasers. Yes, Bobbleheads is one of the most trusted and positively reviewed online custom bobblehead sellers with a wide range of excellent bobblehead designs for our customers' selection.
Our highly experienced and skilled sculptors design the custom bobbleheads based on the photos provided by the customers and designs they have selected, respectively. The modeling and production of custom bobblehead dolls take a great deal of hard work, dedication, modern tools, high-quality material, and not to mention adequate time. So, what's the whole order to create custom bobblehead dolls at Yes, Bobbleheads, and deliver them to your doorstep? Let's check the whole process of how we do our jobs to produce the best custom bobblehead dolls.
We Start With The Idea
As we earlier mentioned, our team sculpts custom bobblehead dolls based on photos provided by the client. We have more than 1000 bobblehead body models for your selection. Sounds great!!! Let continue further. No worries; if you don't find the right body design for your bobblehead. Just let us know your idea, and we will create the exact one for you. A product with dynamic design requires a contemporary aesthetic to meet consumer expectations successfully
Face Creation
All our custom bobblehead doll artists have years of industry experience in sculpting. They will sculpt your face design in clay based on the photos provided with delicate techniques, and elegantly seize the characteristic features of you to present a mini you or any other individual you choose for your gift right at your doorstep. Then, our experts will share the photo of the design for your approval. Don't worry; we will work with changes until it matches perfectly with your expectations.
No, Come to the Body
If you have selected from our 1000+ available custom bobblehead doll body designs, then you are all set. If you require a fully customize bobblehead, you have to share the idea present in your mind. Our skilled sculptors use oil clay to create the sculpt with clothing and other details, and then share the design with you for confirmation and changes.
Mold Creation
After we get approval for your custom bobblehead doll design, then we move to the molding part. We carefully smooth the approved sculpture's surface carefully without erasing any details. Then, we cautiously pour stirring liquid silicon over the approved sculpture unit and leave the silicon to dry. Then, we fix the silicon mold with plaster outside. After the plaster gets solidified, the mold creation process ends.
Work with the Rough White Body
Now, we unfold the molded plaster and inject liquid resin into the silicone mold. We carefully cover the whole mold evenly with resin while avoiding any bubbles in it. After the resin gets dried, the creation of a rough white body is now completed.
Now is the Time for Polishing
We take the rough white sculpture body and use an electric drill to trim the corners, additional resin, and edges. Then, we polish the whole thing carefully with a polishing machine. With the end of this process, we have completed 90% of the process.
Body Assembling & Final Confirmation
After finishing with the polish, now our skillful sculptors will assemble the two parts carefully with complete patience. Before we send the whole custom bobblehead doll for the painting job, our experts will share the image for final confirmation.
The Paint Job
After your confirmation, we will send it to our quality check department for the overall check. Then, the elegant paint job will be performed on the whole white body. We use non-toxic paint to paint all our custom bobblehead dolls. Yes, Bobbleheads also has a team of professional and highly skillful painters to perform the painting work excellently.
Final Inspection & Shipping
After all of the above steps get completed, our quality check team will ensure that the custom bobblehead dolls produced are up to the mark. After the thumbs-up, now the product will be packed carefully and deliver to your doorstep with the fastest delivery service.
Payment & Delivery
Yes, Bobbleheads accepts credit card payments and PayPal also. We usually take 4-6 weeks for your custom bobblehead doll production (including client confirmation and changes if required) and 7-15 days for product shipping. If you are in a hurry, you can select our faster sculpting methods and express shipping methods. With the following selections, your products will be delivered as early as in just one week. We also deliver our products out of the US in countries such as Australia, Canada, France, Germany, Italy, United Kingdom, etc.
It's Time to Order
So, are you ready for your first custom bobblehead doll? Just browse Yes, Bobbleheads website select your custom bobblehead body, upload your photo, make a simple and affordable payment, and you are all set to receive your beautiful, colorful, funny, and juggling custom bobblehead doll right at your doorstep.
Order Custom Bobbleheads Starting with Just $39 Only
Don't search for special offers. Yes, Bobbleheads is offering high standard custom bobbleheads for online orders with a fantastic starting price of just $39 only. Hurry up and choose our special custom bobblehead promotion to order something special for your family, friends, and colleagues.
Check our website today to view all our products and customer reviews.