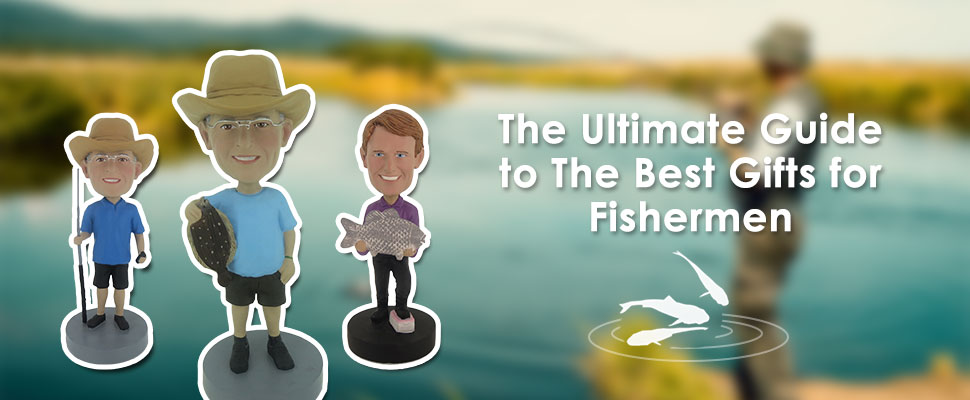 Know someone who loves fishing? Maybe it's a family member or friend. The reality is, you most likely do. According to the U.S. Fish and Wildlife Service, there are roughly 33.1 million anglers (a person who fishes with a rod and line) in the United States. And now it is either your angler friend or family member's birthday or it's a holiday and you are stumped about what to get them. You don't know anything about fishing. The last time you were on the lake with a rod in your hands was a good ten years ago. Not to mention, you had no idea what you were doing. That's ok! We've got you covered. We've created this ultimate guide detailing the best gifts for fishermen and fisherwomen, from practical fishing gear to humorous fish-themed products like fishermen custom bobbleheads.
1. Subscription to Lucky Tackle Box
This gift is a mix of both fun and practicality. Every month (on the tenth), Lucky Tackle Box will ship your angler friend a bunch of fishing goodies, ranging from bait, fishing samples, Fishhound Magazine, and more. The box is mainly for anglers who fish bass, trout, inshore water fish, and walleye, not to mention icefish. The box is priced at $14 and is customizable.
2. Your basic fishing t-shirt
What angler doesn't like a fishing t-shirt? Depending on his or her personality, you can go for more humor like the Godfather fishing t-shirt. Or go for something more subtle such as Born to Fish, Forced to Work t-shirt. Either usually cost less than $20.
3. Casting rod
No angler has too many casting rods. If you do choose this as your gift, know there are saltwater and freshwater casting rods. Some say there really isn't a difference between one or the other, and that it's merely a marketing ploy. However, get a sense if your angler friend has a similar point of view or really does prefer one over the other.
4. Fishing beer koozie
These are hilarious! They're literally can coolers designed to look fish. It looks as if a fish is gobbling up your soda or beer. Since fishing tends to be the time for rest and relaxation (for some), this can cooler may actually come in handy, as he or she sips on a few beverage without feeling the condensation of the can. These koozies are roughly priced at $5 each.
5. Angler's hat
No matter what the weather condition is, fishing is a 100% outdoor sport. Since most anglers fish during the day, it is necessary for them to use accurate sun protection. This calls for not only a reliable sunscreen and sun protected clothing but a hat as well. When choosing an angler's hat, it is best to pick one that offers the most protection, so one with a full brim and a cord to prevent it from flying away is ideal.
6. Fish pen
A lot of anglers bring a notebook and pen to track and record trends (i.e. weather conditions, time, type of fish caught, current...). Priced around $8, this can be a great practical gift. Or add some fun by giving a pen that actually resembles a fish.
7. Vacuum-sealing food saver
For those anglers who enjoy keeping and eating the fish they catch, this would be an excellent gift. Some anglers only get the chance to go on a fishing trip maybe once or twice per year. They then catch pounds of fish. This is where a vacuum-sealing food saver comes in handy, as it allows them to preserve their catch for a couple of months. Priced around $100 (on the lower end) to several hundred (on the higher), this device limits the cold and dry air in freezers, preventing freezer burn. This keeps the fish tasting better for a markedly longer period of time.
8. Boot waders
Especially for those who enjoy fly fishing, boot foot waders are a necessary item to bring along, as no one wants to be uncomfortably soaked throughout their fishing experience. When choosing a pair out, consider PVC boots over rubber, since PVC provides more flexibility.
Also, some have inside pockets. So, if you know your angler friend always has a pen or a plastic lure on him or her, you may want to go this route. These are priced around $35-$100.
9. Fishermen custom bobbleheads
Fishermen custom bobbleheads are a hilarious gift for any fishing aficionado. The good news about these fishermen custom bobbleheads is just that, they're customizable. You are able to pick from a wide variety of fishermen bobbleheads, selecting the perfect one that fits your friend's fishing style. For instance, there's a man holding a fish bobblehead with a pair of shorts, short hair, and sandals smiling and holding a fish. Or, there's a fisherman with rod, who resembles your average person, in regular attire going on a fishing trip. And then there is the fisherman in boat, who looks a little more experienced in fishing: lifejacket, sunglasses, a shirt, and pants, holding a fishing rod. These fishermen custom bobbleheads tend to be around $119.99 (on the lower end) to $159.99 (on the higher end).
10. Shark magnets
Why not get some fun, shark magnets for the fisher aficionado to use to pin up his or her float plan (itinerary of what harbor he or she is fishing from for the day, and the specific location he or she is kayaking or sailing to). If your friend or family member isn't a shark-person, you can swap for some whale magnets. They cost $14.49.
11. Bass whisperer man crate
This crate has everything for trout fishing, from pliers to bait, to even sunflower seeds. It is priced at $79.99
12. Seafood-Seasoning magic
Priced at $15.33, Magic Seasoning Blend is a classic, 24-ounce seasoning used when grilling or pan frying fish. They also have gluten-free, sugar-free, and salt-free options. There you have it: 12 great gift options for your fishing aficionado friend or family member.
Now, you should always have an idea in mind when the holidays or their birthday comes up. Of course, do your research after deciding on the gift, as fishing can be a very technical sport, with minor differences in tools (such as pliers and weights) making a huge difference. If you are running short of ideas, the fishermen custom bobbleheads are a safe bet.