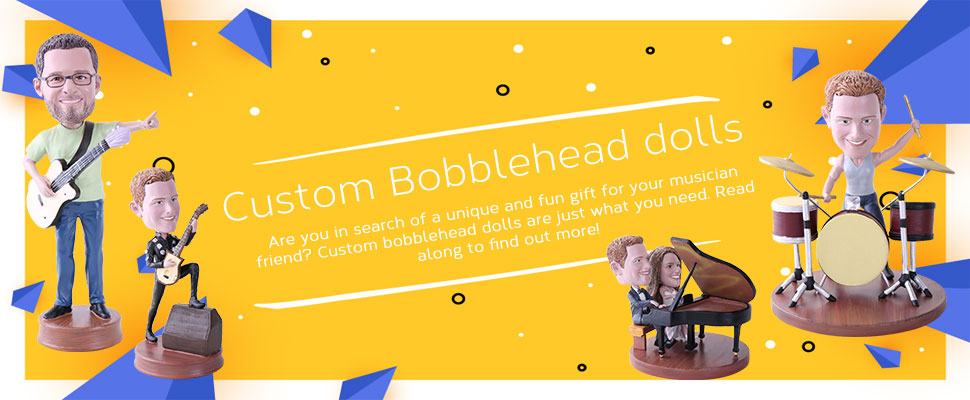 To most people, music serves as the soul of their life. It constitutes a major part of their lifestyle which makes it obvious that they have a long list of musicians they adore and worship. Whether they love drummers, guitarists, or singers, gifting your musician friend custom bobblehead dolls is the perfect commemoration of one's devotion and passion for music. Bobbleheads are unique in their own way as they can be customized as per your requirement.
Whether you are looking for an ideal gift to ramp up your friend's birthday, anniversary, or even a graduation ceremony, nothing could speak appreciation as good as cheap custom bobblehead dolls. So, here is a guide to top 5 customized bobblehead dolls you can gift to your loved ones.
1-Guitarist Bobbleheads:
Are you friends with someone who loves the music coming from those strings? Do you know someone who dreams of becoming the next famed guitarist? Plan a surprise birthday gift with those cute little bobbleheads. You can gift them a bobblehead that looks exactly like the guitarist they admire or better yet gift them a whole collection by opting for bulk custom bobblehead dolls. Why is this perfect gift you ask? A customized bobblehead serves as a fun and unique way of increasing one's enthusiasm for pursuing their passion as a guitarist.
Here is a list of popular guitarists you can get your dolls customized with:
Jimmy Hendrix

Eric Clapton

Keith Richards

Eddie Van Halen

B.B. King

Elvis Presley

Joni Mitchell

Neil Young

Kurt Kobain
2-Singer Bobbleheads:
Music is nothing without a heavenly voice to follow. As a musician, one always notes the ups and downs of musical verses and how they gel well with the tunes. If your friend adores or cherishes the accomplishments of a well-known singer, the best way you can make them happy is by gifting them a miniature version of their favorite voice. So, if you are in search of custom bobblehead dolls near me, make sure you confirm the name of the singer your friend adores. You can bag the best custom bobbleheads from Yes Bobbleheads at affordable prices.
Here are some popular names for your custom bobblehead dolls:
Michael Jackson

Freddie Mercury

Whitney Houston

Frank Sinatra

Marvin Gaye

Beyonce

Amy Winehouse

Alicia Keys
3-DJ Bobbleheads:
Ever went to a party that was hip and happening without any DJ? The clear answer here is a big "No". A talented DJ knows how to crank up the mood by playing the perfect music. If you are bored of simply gifting those music mixes, why not try something new. Cheap custom bobblehead dolls from popular companies such as Yes Bobbleheads will help you get the perfect DJ Bobbleheads for your friends or loved ones.
Here is a list of well-known DJ Artists of all time:
David Guetta

Skrillex

Calvin Harris

Martin Garrix

Marshmallow

Zedd

Diplo

DJ Snake

Kygo
4-Pianist Bobbleheads:
Can you imagine your friend playing with the piano keys creating beautiful music? What's better than some inspirational custom bobblehead dolls with the face of their beloved pianists? Now, if you are wondering how to make custom bobblehead dolls, it can actually be an arduous task. It is better if we leave it to the professionals when it comes to creating the best cheap custom bobblehead dolls. When ordering your pianist custom bobbleheads, make sure you ask for a custom piano as an add-on to make it simply perfect.
This is a beautiful way of gifting that shows your friend that you support their passion for becoming a musician.
For your ease, here is a list of popular pianists:
Ludwig Van Beethoven

Vladimir Horowitz

Oscar Peterson

Amy Lee

John Lennon

Yuja Wang

Edvard Grieg

Nina Simone

Diana Krall

Norah Jones
5-Rapper Bobblehead:
Hip-hop music is a genre that teaches one much more about emotions and life as opposed to another music genre. It covers topics such as hardships, love, the journey of life, hatred, and so on. If you have a friend who is mad about hip-hop and has a great future as a rapper, you must gift them custom bobblehead dolls with the face of their favorite rappers of all time. Wondering who can be the best hip-hop rapper to create your custom bobblehead dolls with?
Here is a list of popular hip-hop rappers to pick from:
Eminem

Jay-Z

Tupac Shakur

Nas

Snoop Dogg

Drake

50-Cent

Dr. Dre

Busta Rhymes

Nicki Minaj

Ludacris
Bottom Line
To sum it up, musician bobbleheads can be perfectly adorable and unique as gifts. Make your close ones feel appreciated and noticed for their choice of career and passion. Whether it is Christmas, birthday, or anniversary, say you love your friends in a creative way with cheap custom bobblehead dolls.