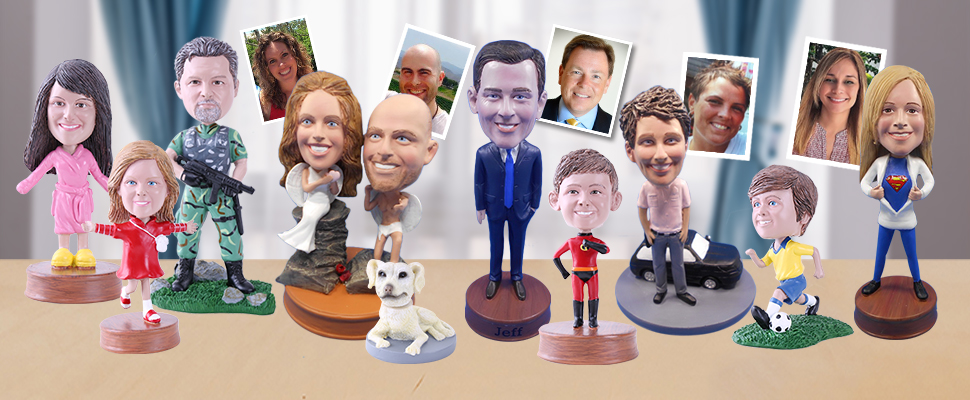 Custom bobbleheads are getting more famous as customized gifts for different holidays and moments. You can think of custom made bobbleheads dolls given out at sporting events or placed on car dashboards looking like notable person, actors, athletes, celebrities, and many more. You can customize your dolls to look just like your friend, uncle, cousin, sister, brother, relative or spouse. These dolls are elegantly sculpted by expert artists who will work for you to ensure that the bobble heads are perfect and pleasing to your taste and preference.
Work of the designers
When the order is received, the sculptor is given a photo. The designer then uses that photo to create bobblehead by hand. Because of the highly popularity of these dolls, they are usually made from plastic or polyester. This material is much easy to mould and resemble the clothes, postures and faces of the person.
These dolls can vary greatly in size and the most common ones lies within 5 to 6 inches. However, you need to bear in mind that they may vary in size even if you order multiple dolls as they are hand crafted.
Find your perfect online company
In case you need to purchase one or more of the custom made bobbleheads they are found in many online companies that will finish your order as per the target date. In order to avail best results, you'll have to compare websites and review their rating. Many bobblehead usually range from 70 dollars to hundreds of dollars, however the cost may vary on how detailed and life like you want the bobbleheads to be.
Any occasions; bobbleheads are best
To speak of, these dolls can be given out as gift for various special events, occasions and holidays. The most common one to give is on weddings and anniversaries. People always want to find that special gift to given to wed couple and so it can be used to create a couple bobblehead wearing their wedding gowns and suites. Amazingly, these are the most common boblehead in today's time. Many organization offer discounted offers and prices on the order of these bobblehead and so you must ask them about it.
How wedding is made special?
In case of wedding gifts, these custommade bobblehead are used for wedding cake toppers. As the bride and groom want a cake topper to be that centre of attraction for family and friends, this becomes the most beautiful part of the wedding day. Apart from wedding day, it can also become a romantic gift for the anniversaries or Valentine's Day. Your partner will surely love them as bobble heads are unique. These are funny to look at and fun to play with.
The custom made bobbleheads can also be given as birthday or Christmas gifts to near and dear ones or may even get one for your own. As this dolls serves as conversation starter, you can have one of them in your car, on your work area or on your desk as they make unique customized gift.
How to get started?
We proudly offer free approvals on various stages while creating your dolls. This means a great deal while sculpting your doll making sure you are satisfied.
Also during the process, we send body proof, head proof and final proof to your mail and take care of every step according to the change that you request.
If you are looking for information to give bobble head as gifts, you can use our US Toll Free: 866-213-0618 or even email us at: sales@yesbobbleheads.com