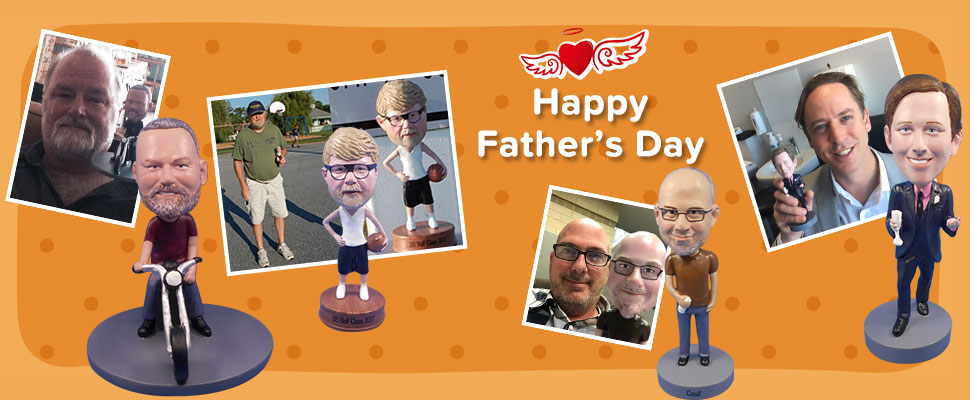 Do you struggle every year when Father's Day comes around? Are you tired of giving your dad uninspired gifts like neckties or cologne? There's nothing cliche about your dad. Your Father's Day gifts shouldn't be cliche either. At the same time, it can be really hard to come up with unique gifts for Dad. Moms are usually easier to shop for--but Dad? How can you be sure what he needs or what he'll like? Bobbleheads may not be the first thing that comes to mind when you think of Father's Day presents. But if you're looking for some truly cool gifts for Dad, you've come to the right place. Here are five compelling reasons why a custom bobblehead is one of the best gifts for Dad this Father's Day.
1. Personalization
Personalized gifts have been around for a long time. Names or initials can be added to just about anything, and there's always monogrammed towels. While there's nothing wrong with any of these gift ideas, you have to admit they're not the most original ideas either. And thanks to modern technology, personalized gifts are no longer limited to embossings or engravings. Personalized bobbleheads are carefully crafted from head to toe to resemble their owners. Using a photo or two, the designer generates a 3D image of the person--in this case, your dad. The designer uses this 3D image to craft a head, face, and body that closely resembles the person. When it's finished, you have a miniature, slightly comical version of that individual. Because of the enlarged and "wobbly" head, bobbleheads are similar to a cartoon or caricature. But unlike a flat drawing, a bobblehead can capture the real essence of the individual. A miniature version of your dad--what could be more personalized than that?
2. Universal Appeal
Another reason bobbleheads make unique gifts for Dad? They are universally loved. We all have that one friend or family member who's impossible to shop for. It's not that they're a difficult person--it's just difficult to know what they like. In this scenario, we could be talking about your father. Let's say you buy your dad (another) necktie. How can you be sure he'll like the color or pattern? How can you be sure it will match his dress shirts or suits? Or maybe you get your dad a watch. Are you sure he'll like the style? Will it complement his wardrobe? Or will it collect dust in a drawer? Now let's say you get your dad a bobblehead that looks just like him. As soon as he touches the head and watches it wobble, he's sure to smile or laugh. And every time he passes it in his home or office, he won't be able to resist giving it a little tap. You can be sure he won't be nearly as excited about a monogrammed towel.
3. Customized
We've already touched on this, but let's dig a little deeper. You already know the bobblehead will look just like your father. But did you know you can also fully customize what he's wearing, doing, or holding? Was your father once (or currently) in the military? Make a military bobblehead of him wearing army fatigues or holding a gun. If he's a big fan of 007, you could even dress him up in a James Bond-inspired suit. Is your dad a major sports fan? Why not get a sports-themed bobblehead of him playing his favorite sport? You could also have him sculpted wearing his favorite team's jersey, whistling as a referee, or breakdancing. Yes, your dear old dad could be forever immortalized in breakdancing bobblehead form. Think of the laughs for years to come! If your father's more the traditional type, you can also go with a more traditional bobblehead. Office bobbleheads come dressed in suits and ties and make the perfect addition to any work desk. The point is this: Whatever your dad is into, there's a bobblehead to match his interests and lifestyle.
4. Portable
Another great feature of bobbleheads is that they're small, lightweight, and portable. They won't take up too much space in the home or office. Heck, Dad can bring it back and forth from the home to the office if he wants! It would also make an ideal mascot for an upcoming father-son or father-daughter trip. Many people find bobbleheads inspiring and choose to keep theirs at work or on the dashboard of their car. If they're having a bad day, all they have to do is give the little guy a tap. That silly wobbly head is sure to create a smile every time.
5. Truly Thoughtful
Bobbleheads make cool gifts for Dad because they're unique and thoughtful. It's not the same gift everyone else is giving their dads. It's not the same gift you've given your dad on past Father's Days. Custom bobbleheads have that "wow" factor about that. Your dad will be touched that you took the time and effort to create a truly unique gift for him. Best of all, bobbleheads last a long time. Watches get broken, cufflinks get lost, and ties get stained. But a bobblehead? It just might last forever.
Bobbleheads Make the Most Unique Gifts for Dad
The question isn't whether you should buy a bobblehead for Father's Day. The real question is: Why shouldn't you? They're unique gifts for Dad. They're thoughtful and fun. It's sure to make him smile whenever he sees it. And come on... Does he really need another necktie anyway? Rather than the same old Father's Day presents, give the gift of bobbleheads! Check us out and explore our wide variety of men's bobbleheads. One of them is sure to be perfect for your dad.